1,000 Books
Before Kindergarten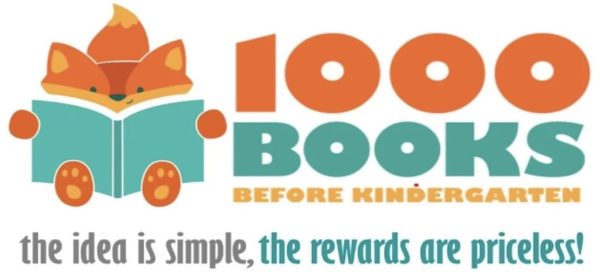 Help your child prepare for one of life's biggest milestones: KINDERGARTEN.
The goal is to read 1,000 books (yes, you can repeat books) before your little one starts kindergarten.
Sign up, get your first reading log to begin, then earn stickers as you reach your milestone. For children ages birth to 5 years old, not in kindergarten!
Register
Fill out our online form to register your child today.
Reading Log
Download the first reading log to get started.
Note:
Only the 1st reading log is available online.  When you have completed the first reading Log you will need to visit the library to pick up Log #2, a sticker for your child and your 1000 Bks B4K folder. 
After turning in Log #1 we will add your child's name to the 1000 Bks B4K achievement ladder!
Why Should You Participate?
Develop Your Child's Love of Reading at a Young Age
Get Your Child Ready to Read
Bond with Your Child as You Read Together
Teach Your Child All About the Library and the Joy of Books