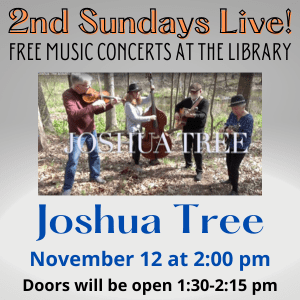 2nd Sundays Live! – Joshua Tree
2nd Sundays Live! is our free monthly concert series featuring local musicians.  All concerts will be at 2:00 p.m. and will last approximately one hour.  Doors open at 1:30 and will be locked at 2:15.  All ages are welcome!
Sunday, Nov 12: Acoustic quartet Joshua Tree performs traditional music, sometimes called Roots music or Americana, with sounds in the Folk tradition as well as blues.  They selected their name to honor the beauty, simplicity, and endurance of acoustic music in the tradition of Folk and Blues.  You'll hear guitar, mandolin, mandola, violin, banjo, and upright bass — and you'll even have a few chances to sing along!
Sunday, Dec 10: Kalamazoo Saxophone Quartet – Holiday favorites and more
Sunday, Jan 14: Guitar UP! – A fun instrumental guitar band playing 60s-style surf music and more
Sunday, Feb 11: Coffee with Friends – An acoustic trio performing songs from artists like the Eagles and James Taylor plus soulful originals
Sunday, March 10: Whiskey Before Breakfast –  Irish traditional dance music; jigs, reels, hornpipes, and all manner of tunes and songs.