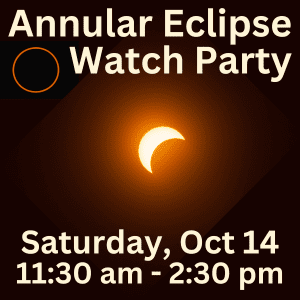 Annular Eclipse Watch Party
Bring your eclipse glasses or indirect solar viewers and join us on the lawn to watch the moon take a bite out of the sun! The partial eclipse will begin for us at 11:41 a.m. when the moon touches the edge of the sun. Maximum eclipse will occur at 1:00 when the moon will cover nearly 40% of the sun's area and 50% of the sun's diameter as viewed from our location.  The eclipse will end at 2:23 p.m. when the moon leaves the edge of the sun.
This eclipse will be an annular or "Ring of Fire" eclipse when viewed along a path that stretches from Oregon to Texas, and we'll have a livestream of the eclipse from one of those locations available to watch inside the library.  Maximum eclipse begins in Oregon at 12:13 p.m. our time and ends in Texas at 1:03 p.m. our time.
This program is part of our eclipse series. People who attend will receive a pair of eclipse glasses (if supplies permit) courtesy of the Gordon and Betty Moore Foundation's support of the Solar Eclipse Activities for Libraries (SEAL) program.