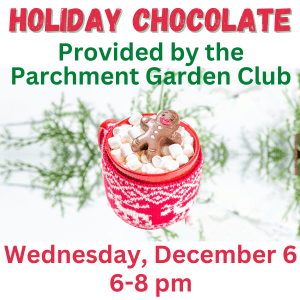 Holiday Chocolate and Parchment Wassailing
Homemade hot cocoa and cookies at the library, made with love by the Parchment Garden Club and the Friends of the Library. Music performances by the Mall City Harmonizers and the Kalamazoo Recorder Players. Friends of the Library Holiday Basket raffle: tickets are $1 or 6 for $5 and will be on sale until the drawing at 7:45 p.m. Visit Parchment businesses for more holiday treats and entertainment.
Parchment Wassailing Locations:
Harding's Market: Cider & donut holes
Parchment Middle School: Live nativity sponsored by the Parchment United Methodist Church; Parchment Schools band and choir concert performances inside
Iconic Cuts: Snacks
Geno's Golden Pizza: Treats
Parchment Service Center: Live music and food
Biggby Coffee: Coupons
Faith Life Church: Hot Cocoa Bar
Parchment Community Library: Start here at 6:00 p.m. with the lighting of the holiday lights!
Kindleberger Park: Holiday lights in the Sunken Garden
Public Works Garage: Tours of the Parchment Fire Truck, treats, and fire hats for kids
Ty Kelley State Farm Insurance with Haven Reformed Church: Treats
Advia Credit Union: Santa Claus & Mrs. Claus
Save-A-Lot: Treats
Dollar Tree: Ornament decorating and hiring event