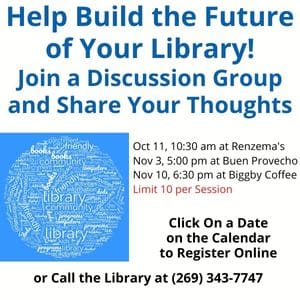 Library Discussion Group
You are cordially invited to take part in a small discussion group to share your thoughts about library services. In particular, we would like to know what you think are the strengths and weaknesses of the library as it is now, and any suggestions you might have for additional services the library could offer. Your views will be used to help us plan for the future of the library.
We will be providing snacks and a small token of appreciation. Participants will have their name put into a drawing for a chance to win a $100 Harding's Market gift card. Please note that discussion groups are limited to ten people. Click HERE to register for your choice of time and location.
Available Discussion Groups:
Tuesday, 10/11, 10:30 a.m. at Renzema's Bakery, 214 Link Lane
Thursday, 11/3, 5:00 p.m. at Buen Provecho, 643 N Riverview Drive
Thursday, 11/10, 6:30 p.m. at Biggby Coffee Parchment, 116 S Riverview Drive